Hello there!
Get up close and personal with the Panic Loungers…
Charles – vocals
At school Charlie loved a bit of musical theatre but spent too much time on the river going backwards to indulge this passion. Not until 1988 when he and bass-man Jezza G-C (now with the awesome indie disco band Jam Sandwich) started the notorious cover band Kenwood And The Mixers at Durham University did he unleash his moderate vocal talents on the world. With a different line up as Kenwood Remixed he played numerous insalubrious venues in London's SW6 before hanging up the mic in 1998.
Wind on twenty years later to 2018 when the call came from Ed to visit the Maidenhead lounge where the panic was spreading. Instructed by his daughter "YOLO Dad!" (You Only Live Once for the uninitiated), Charlie signed up to Panic Lounge and began once again to transpose other people's songs into their rightful musical key.
Joe – keyboards
Joe started playing the piano when he was 3 years old as a result of pushy parenting and a desire to compete with his sister. Since then, whilst his sister was gaining the highest mark in the country for her grade 8, Joe has enjoyed quoting the office, talking about people who are better at football than he is and  playing a variety of music, with his favourite normally being whichever makes him look the least nerdy.
He has always enjoyed being part of a band and recently teamed up with, "Panic Lounge" when it became clear that no one else wanted him.
Ed – drums
Ed started playing the drums when he realised he couldn't read music. His played in several bands at his third rate university and probably should have concentrated on either his work or getting better at the drums. After a break of 25 years he had the classic mid life crisis of buying a bike, wearing Superdry leisure gear and deciding to reform the band.
Ed is the central connector to all the members of Panic Lounge which is handy as it means he cant be sacked. It means he also claims it is his band. Drumming claims to fame: His Mum met the drummer of Coldplay at a drinks party in her village.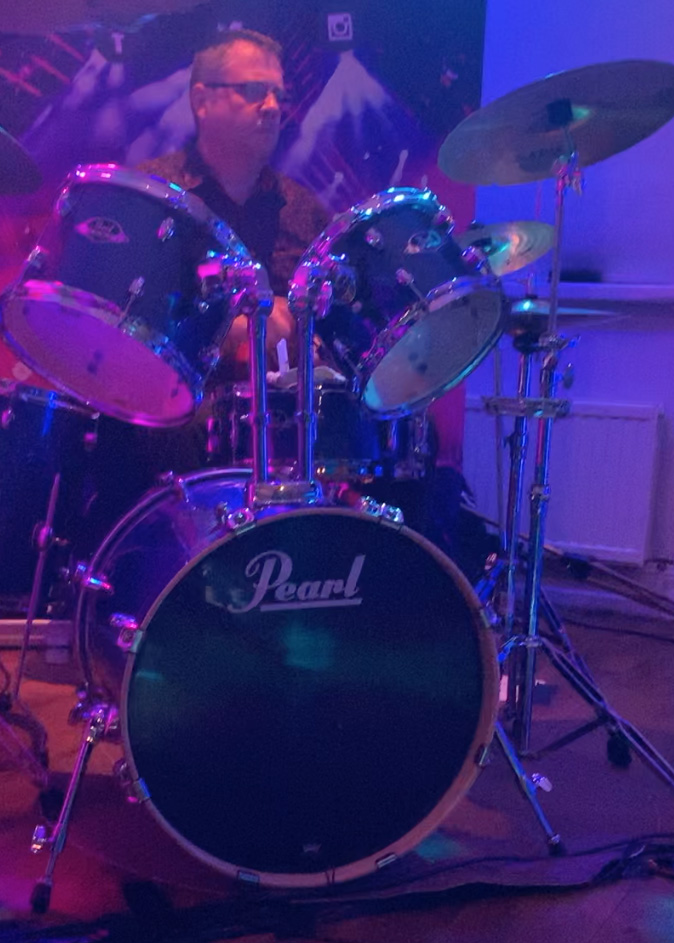 John – bass
John began his varied and eclectic bass playing career early, first strapping on a four string while at school in his home town of Goole, the famed Northern Gateway to Europe. As pretty much the only bass player in the school (and because he had a Trace Elliot!), John was drafted in to various covers bands, experimental combos and musical productions. It was during John's formative Sixth Form years that he landed a residency with the Pete Jackson Big Band, funking up the oldie's swing and jazz classics every Friday night to appreciative audiences of the tough, northern working men's club scene. At university, jazz took a back seat and funk rock came very much to the fore, seeing John play in everything from tribute bands to musical productions to soul and blues outfits. After Uni, John discovered the joys of computer-based music production, meaning he could realise and record his own compositions without having to leave the house. And unlike playing with a real drummer, he only had to punch the beat into a drum machine once. This period produced the now legendary and extremely rare solo album 'Eight', signed copies of which will be given away free with every purchase of officially licensed Panic Room condoms. Throughout this time, John maintained human contact, however, providing the funky heartbeat to Hertfordshire based band, Cooltrader and to this day John still plays double bass with the critically acclaimed Jules Thomas Trio – a four, sometimes five piece smooth jazz combo. Nice. It's while performing in these musical extremes that John has come to realise the difference between a rock and a jazz musician – one plays three chords to hundreds of people, the other plays hundreds of chords to three people.
Alongside laying down the bass groove, John has also developed something of a cult following in the primary schools and village halls of Hertfordshire, spinning the wheels of steel under the pseudonym of DJ Coops or DJ Dad, depending on the gig. Now with Panic Room, John once again enjoys strapping on his instrument, which is officially the longest in the band and goes deeper than anyone else's when he slaps it hard enough.
Apart from forming an inescapable rhythm bond with Ed, John's musical claims to fame include rocking such legendary venues as the Marquee Club, Sainsbury's Car Park and the pedestrian precinct outside Hertford Superdrug. John's also played in the house band for BBC North's Children in Need night backing 80's power couple, Dollar and he once famously missed an audition for Simply Red.
Simon – guitar
Just a city boy, born and raised in south St Albans, Simon started learning his chops at the tender age of 9, starting on classical guitar before graduating to his first cheap Japanese Strat clone at the tender age of 12. Simon performed in various ill-advised heavy metal bands through his teenage years, culminating in the peak one-gig triumph that was Benjo Rammer, aptly named after the heavy duty, and deafeningly noisy, machines used for tamping ballast around railway sleepers. In a total stylistic volte-face, Simon joined the Belouis-Some-inspired Impact, which notably performed at Live Aid* in 1985. After a brief sojourn in electro-pop-infused Comfy Chair, hastily assembled to unsuccessfully challenge for the Home Counties Battle Of The Bands, Simon wisely concluded that he better had go and get some more qualifications.
As a Uni student, Simon performed around Leamington Spa with the post-new romantics (for which read "late to the party", yet again) Below The Ice. Performing to sell out crowds of white-lightning-infused students, the band released a single 4 track cassette EP which has become a collector's rarity.
Recognising that he had a penchant for playing musical styles that were a few years past their sell-by date, Simon migrated into various Buckinghamshire covers bands, notably Joe Blobbs and Scaramooley Booley, playing blues, rock, pop and even the occasional insipid ballad.
Regularly found travelling backwards up a river behind Charles, Simon's natural sense of syncopation mercifully lends itself better to riffing on the guitar than it does rowing in a crew.
* Medway Live Aid, that is, in Gillingham, Kent.